According to Rentals.ca listings data, the average rent for Canadian properties in October was $1,940 per month, a decrease of 0.7% monthly, but an increase of 5.5% annually. The median rental rate was $1,850 per month in October, up 8.9% from a year earlier ($1,700).

National Overview
The 5.5% increase over the past year is not consistent across property types and bedroom types. Rented townhouses are experiencing much higher rent growth at 19.7% annually, keeping in mind the composition of units listed is not consistent month by month. The chart below looks at the annual change in average rents by built form on the left, and by bedroom type on the right.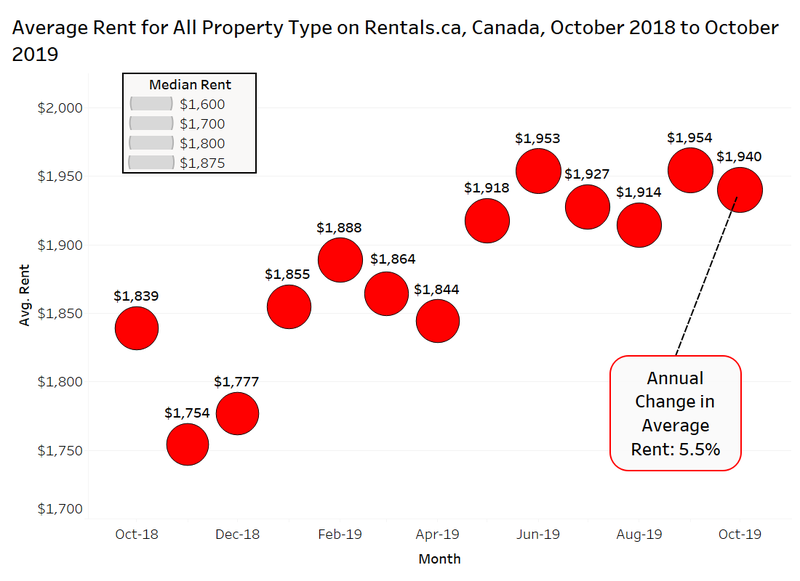 The average rent for single-family homes (single-detached and semi-detached houses) has increased by 12% annually to $2,685 per month.
The biggest sample size of listings on Rentals.ca belongs to rental apartments, at 57% of the total in October. Therefore, the results for this property type is likely the most reflective of actual rental market conditions in Canada. The average rental apartment was listed for $1,574 per month in October 2019, up 7.7% from the same month last year ($1,461).
Condo apartment rents increased by less than 1% annually, rising from $2,477 to $2,497 per month.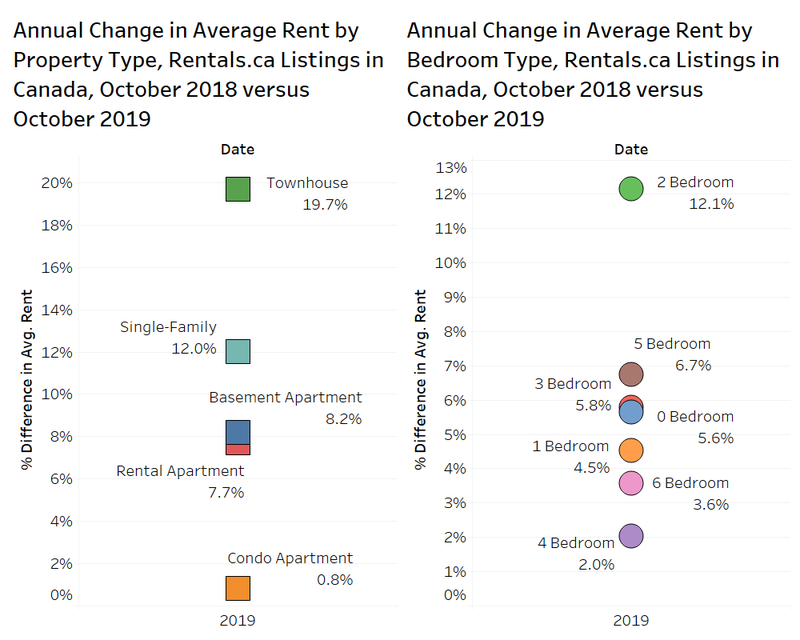 Growth by bedroom type showed that two-bedroom suites increased by 12.1% annually, almost twice as much as any other unit type. One-bedroom units increased by 4.5% year over year.
The unit size is not available for all Rentals.ca listings, but the share of units with available square footage is much higher for apartments. The chart below looks at the average rent per-square-foot (psf) for rental apartments and condominium apartments in October 2018 and October 2019 in Canada.
The average rent per-square-foot for condominium apartments declined by 4.5% year-over-year from $3.42 psf to $3.27 psf, which can be partially explained by the fact that the average unit size was larger in October 2019 at 812 square feet (sf) versus October 2017 at 777 sf. Generally speaking, the rent per-square-foot declines as suites get larger, with the exception of condos on penthouse floors or with generous balcony sizes.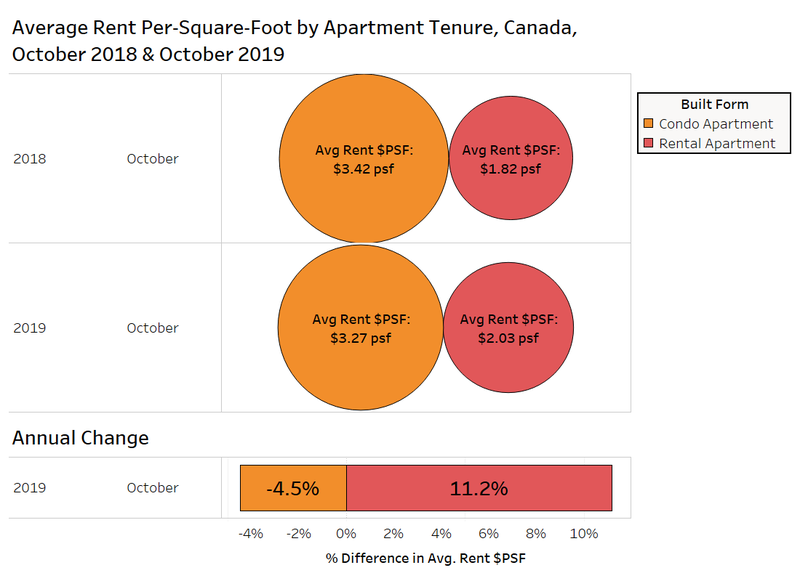 On a per-foot basis, rental apartment monthly asking rents increased by 11.2% annually from $1.82 psf to $2.03 psf. There is clearly more demand in the more affordable segment of the market. However, there was a noticeable change in the size of rental apartment units listed year-over-year, dropping from 895 sf in October 2018 to 825 sf in October 2019.
Provincial Rental Rates
On a provincial level, Ontario had the highest rental rates in October, with landlords seeking $2,334 per month on average (all property types), unchanged month-over-month, but rising 9.1% annually from $2,139 in October of 2018.
The average rental rate in Alberta declined for the third consecutive month to $1,265, but is still up 2.2% over October of 2018 ($1,238).
In Saskatchewan, the average monthly rent for all property types was nearly identical for October in 2018 and 2019, dropping from $1,104 last year to $1,102 this year.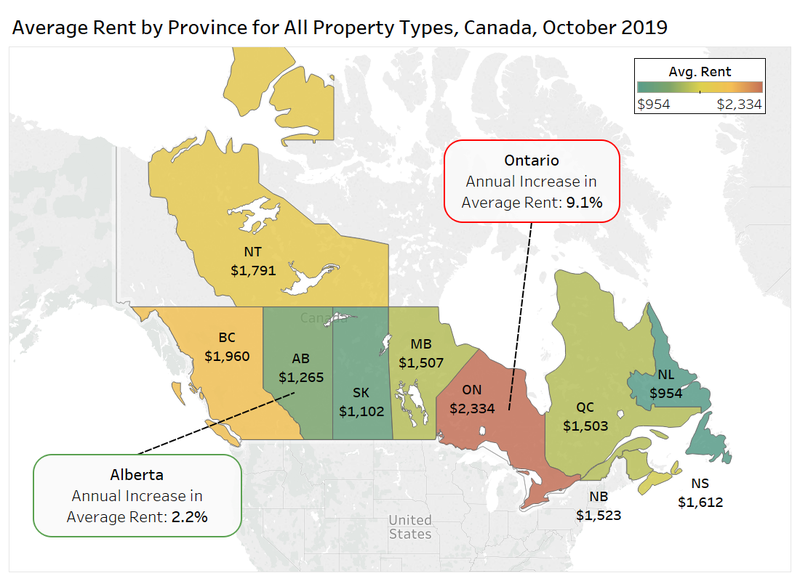 The tight rental market conditions overall in Ontario is not being experienced by condominium apartments to the same extent. The top portion of the chart below shows the average monthly rent and average rent per-square-foot for leased condo apartments in Ontario since October 2018. Monthly asking rents have increased by 2.5% annually from $2,482 a month to $2,544 per month, but per-square-foot rental rates have declined by 2.5% since October 2018.
The bottom portion of the chart shows the share of Ontario condo listings by municipality. Toronto (former city, pre-amalgamation) accounts for around 60% of the province's listings on a monthly basis, with much of the remaining 40% in other GTA areas such as North York, Etobicoke, Mississauga and Vaughan.
Leased condominium apartments have typically been the domain of young professional singles and couples, and more recently younger families with preschool-aged children. But these younger tenants struggle to have the financial ability to rent high-end properties. Two reasons affordability has suffered and rental rates have shot up are the changes to the mortgage stress test limiting mortgage credit and preventing some would-be homeowners from leaving the rental market, and expanded rent control in April 2017 causing many tenants to stay in their current suites.
With near record levels of population growth, a lot of residents are looking for apartments, and supply hasn't kept up. Through the first three quarters of 2019, there were 17,915 new apartment completions (rental and condominium tenure) in Ontario, the lowest level during the first nine months of the year since 2014.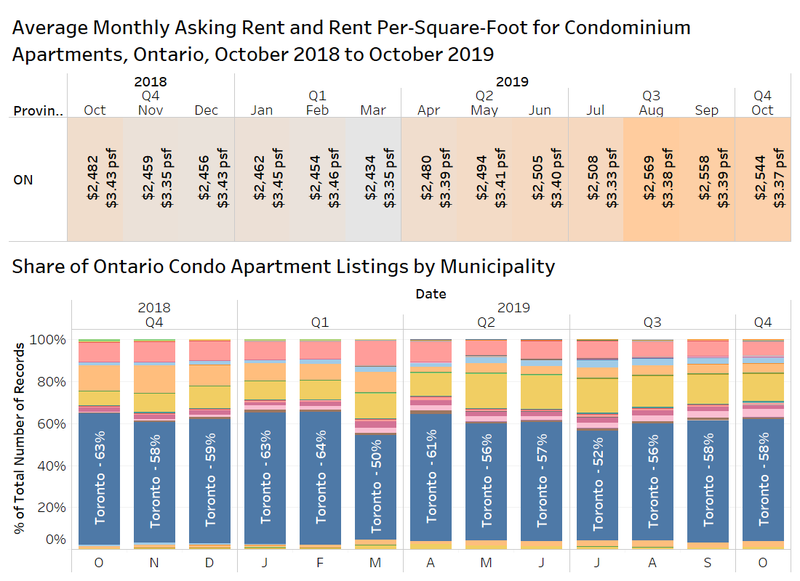 Municipal Rental Rates
The following charts look at monthly asking rents (all property types) for several municipalities and former municipalities in Canada from October 2018 to October 2019, with the latest rental rate marked.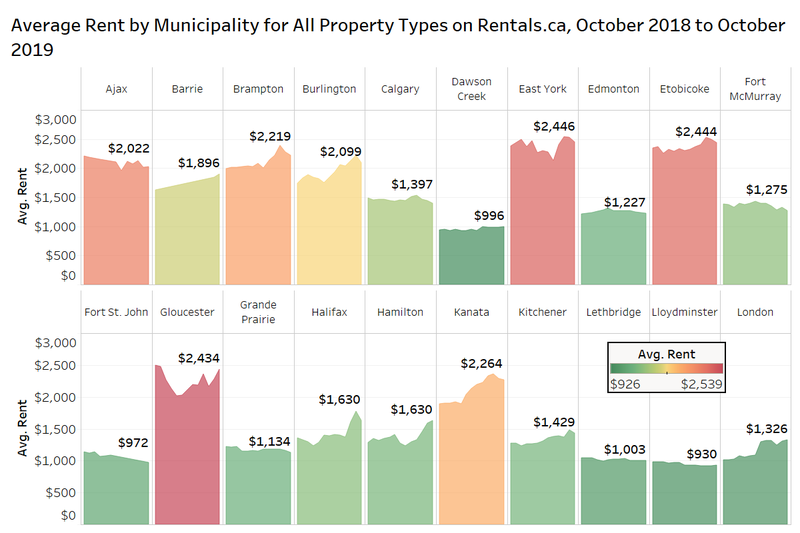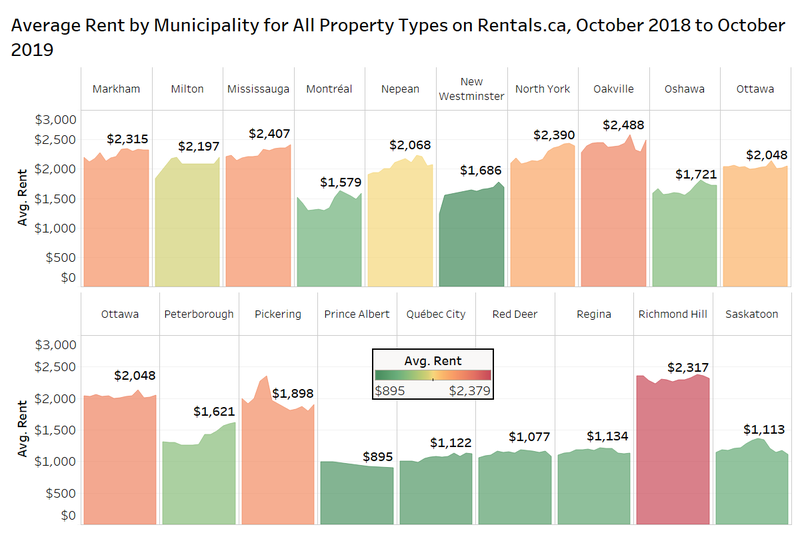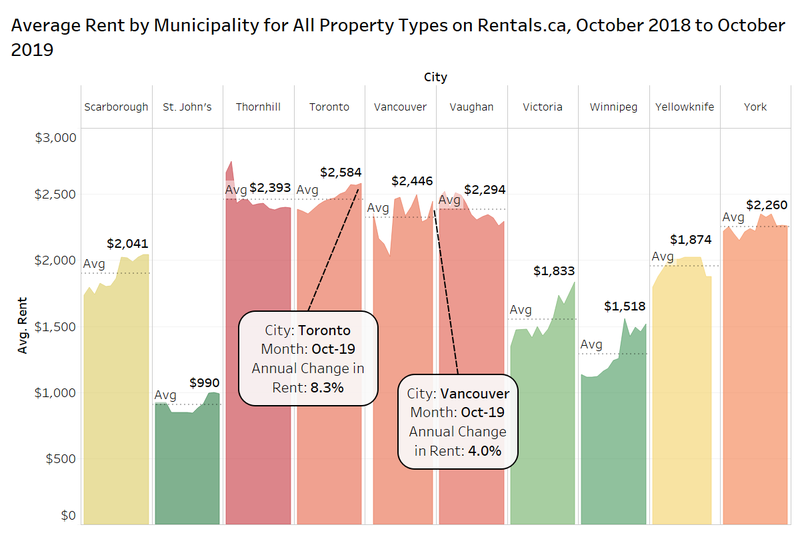 The final chart shows Toronto and Vancouver, with the average rental rate in Toronto hitting $2,584 per month in October, 8.3% higher than a year earlier. The sample size for Vancouver is much smaller than Toronto and has experienced monthly rent volatility, but overall rents have increased 4% annually to $2,446 per month.
Several of the markets shown above have listings comprised of very different built form mixes, with some cities having more basement apartment and rental apartment listings, while others have higher shares of townhouses and single-family properties.
The chart below looks at just rental and condominium apartments only in several major markets in Canada.
Hamilton is experiencing extremely high rental market appreciation at 24.4% annually, followed closely by the former City of Scarborough at 24.0% and London at 23.4%.
The four bottom markets are all in Alberta, with Red Deer seeing rents increase by 0.3%, while annual declines of 2.1%, 5.1% and 8.0% were experienced in Edmonton, Calgary and Fort McMurray, respectively.
Edmonton & Toronto Insights
Edmonton Rental Insights:
The changes in rental rates for condominium and rental apartments on an annual basis for the City of Edmonton and several surrounding municipalities are mapped by postal code in the figure below.
Municipal and Metro-area average findings can often by skewed when the composition of listings shifts geographically on a month-to-month basis. To get a better sense of what is really occurring, looking at the postal codes with the most activity will provide additional insight into the Edmonton market.
The postal code with the most rental market activity by a wide margin is T5H, which is downtown and is split by 107 Avenue NW, and includes Commonwealth Stadium in the upper right hand portion of the postal code. This area has experienced a 2% decline in average rentals in October 2019.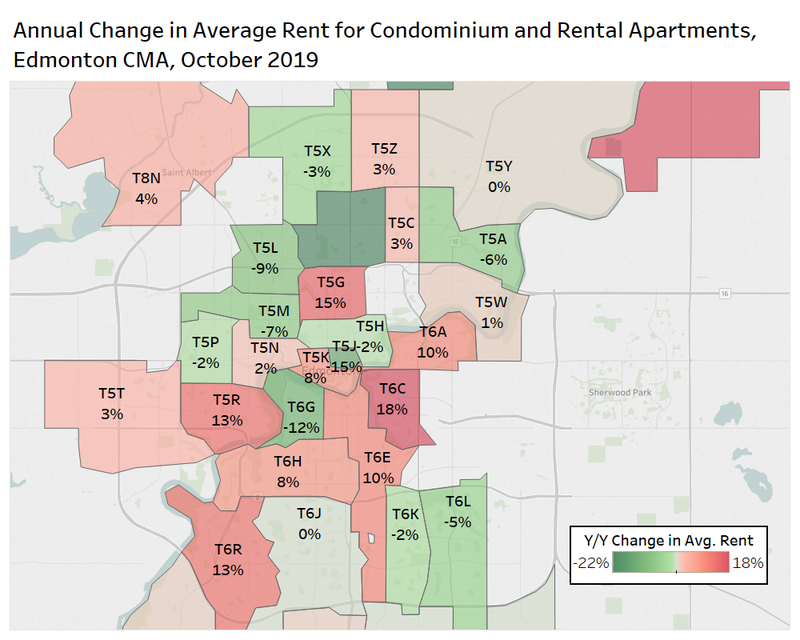 The second most active postal code is T5T (West Edmonton), which has experienced an increase in average rents on an annual basis of 3%.
The chart below looks at the average rent per-square-foot for rental apartments in Edmonton by bedroom type, which shows that all bedroom types increased year over year. However, the average units sizes were smaller across the board for all bedroom types, which likely explains much of the increase in rent per-square-foot, as opposed to an increase in demand.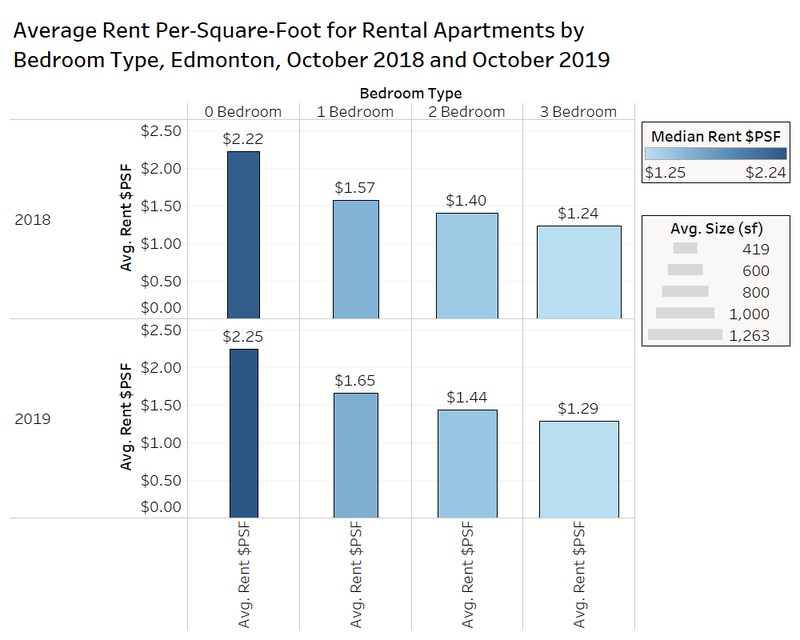 Toronto Rental Insights:
The former City of Toronto has seen rents increase rapidly over the last two years, however, the pace of condo rental rate appreciation has started to slow.
The chart below shows the average rental rate for condominium apartments (orange) and rental apartments (red) at the top, and the average rent per-square-foot at the bottom.
Monthly rental rates have increased by 1.8% annually in Toronto for condo apartments, while rent per-square-foot for condos is up just 1.7% over October of 2018. However, rental rates for purpose-built rental apartments are up 16.1% annually, rising from $1,966 per month to $2,283 per month. On the per-square-foot side, rents are up 10.9% annually for rental apartments, rising from $2.94 psf last October to $3.26 psf this October. The sample size for these two property types in Toronto is quite robust, so it is unlikely that a lot of the price growth can be explained away by changes in the composition of the sample.
The number of rental apartments listed on Rentals.ca in Toronto has declined since last year while the number of condo apartments listed on Rentals.ca has increased by 25%. Last year, pageviews for rental apartments were three times higher than condo listings, that rate has accelerated to five times higher in October 2019.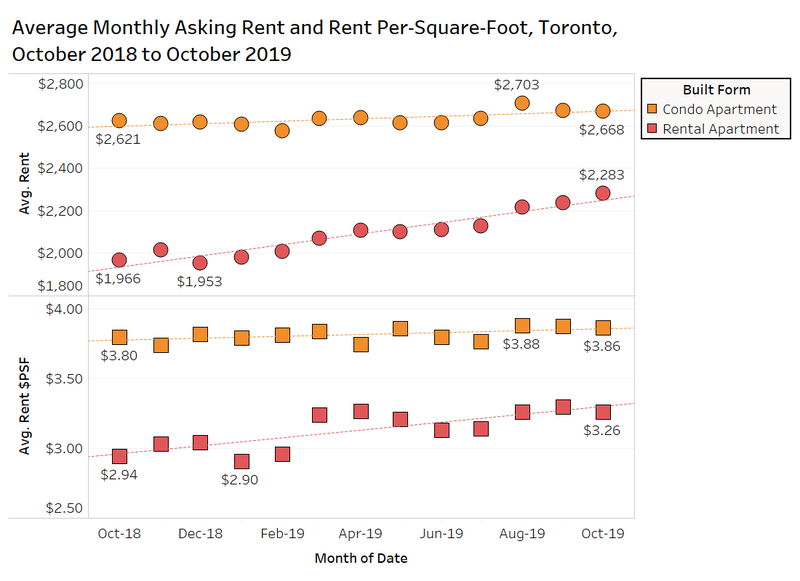 It is worthwhile digging a little deeper into the condo and rental apartment market in Toronto to see where the market is changing and rental rates are moving.
The chart below looks at the distribution of condominium apartment rental listings on Rentals.ca in October 2018 (top) and October 2019 (bottom). The distribution is very similar in October of this year compared to last year (excludes units over 1,150 sf), but the data shows that rents are higher in 2019 on a per-square-foot basis for units from 300 sf to 650 sf, lower from 650 sf to 850 sf, and higher from 850 sf to 1,150 sf. There appears to be stronger markets for the least expensive small product and the most expensive large product, but less demand for suites in the middle.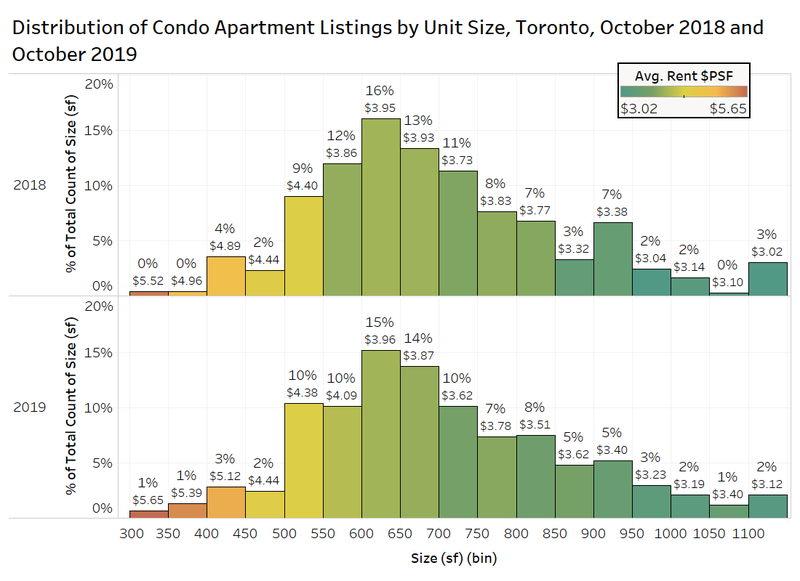 Shifting focus to rental apartments, the chart below looks at the percent distribution of rental rates for listings in Toronto for the last three months in 2018 in comparison to the last three months of this year (August to October 2019).
The chart shows the dramatic decline in the share of rental apartments listed for less than $1,800 per month, from nearly half of the listings in Q4-2019 to just 26% over the last three months (excludes rental units listed for above $4,000 per month).
In the fourth quarter of 2018, approximately 13% of rental apartments in the former City of Toronto were listed from $2,200 to $2,800 per month. Over the last three months that share has more than doubled to 28%.
The best way to control for changes in the market is to compare data on an apples-to-apples basis, and there is no better way to do that than looking within the same building over time.
The chart below looks at several buildings in Toronto, the majority of which are condo apartments, showing the average rent per-square-foot for projects that have significant leasing activity over the past year.
Of the nine projects, five had higher per-square-foot rental rates, while four had lower rental rates. However, the average for the nine projects was $4.10 in Q4-2018 and $4.00 in Q4-2019 (October only).
However we chop the data, there is clearly some flatness in the Toronto rental market for high-end condo product. This doesn't not bode well for pre-construction condominium investors banking on much higher rental rates. However, the monthly asking rent for these projects in October 2019 was $2,560 per month, up from $2,482 in Q4-2018. Part of the decline was associated with larger suites for lease this year.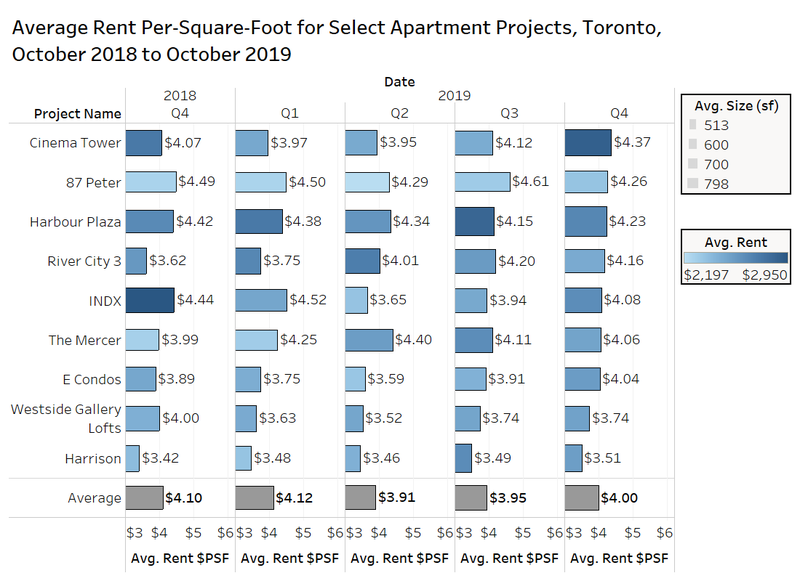 Conclusion
In November of 2018, Rentals.ca prepared a rental rate forecast for Canada, calling for 6% annual growth in 2019. In October of this year, rental rates were up 5.5% annually. That said, Canada is really a tale of three markets, immense strength and tight conditions in British Columbia and Ontario, flat or falling rents in Alberta and Saskatchewan, and relatively stable conditions in the remainder of the country.
Recent released figures showed the median wage growth in Canada is at its highest level in over 20 years, and average wage growth is twice the rate of inflation, suggesting increased demand for housing, but increasing the chance of an interest rate hike in the future if overall inflation starts to rise.
\
On the municipal level, there appears to be some confounding data showing rental rates for traditional rental apartments soaring to 16% annually in Toronto, while condo rents are up just 2% annually. It has been suggested that the market has hit a rent wall, with tenants balking at rental rates above $2,500 per month. Anecdotally, real estate agents have mentioned that couples are now renting studios under 400 sf in Toronto, and two sets of couples are renting two bedroom units to save on rental rates, but it isn't clear how pervasive those trends are.
Despite some Toronto residents electing to rent smaller units, rental rates in the City and nationally are expected to continue to rise on average. Rentals.ca will prepare and present a 2020 forecast in the next National Rent Report.